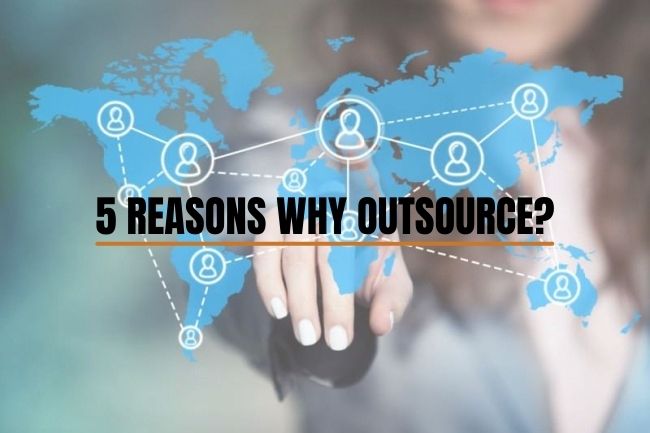 Outsourcing software development projects is a practice that is being adapted by many businesses throughout the world. Whether it be a web application or a mobile application, outsourcing such software projects is the new norm.

There are numerous reasons for "WHY SHOULD BUSINESSES OUTSOURCE THEIR PROJECTS."
So without further ado, let's dive right into the 5 reasons why I think businesses should consider outsourcing their project.
Cost Saving: First and the most obvious reason to partner with an outsourcing software development company is because it helps you save cost. When you outsource your project, you don't need to invest on hiring multiple expensive in-house developers as we all know finding an all in one developer is impossible to find but rather you can outsource your project to an established organization who can develop the software on your behalf for a much lower cost.
Saving time: If you think that software development is not your forte, then you can save a lot of time & money outsourcing your project and focus on the things that your business is specialized at.
Risk diversify: Outsourcing software development projects helps to diversify risk. Especially for start-up companies, hiring multiple developers is highly unlikely going to be possible for them. Hence the possibility of making a mistake in one area or another of the software project is great. Outsourcing your project helps to diversify such risks.
Maintaining quality: Harnessing the power of outsourcing software development projects can help you maintain your software's quality. If your employees aren't qualified enough, then outsourcing your project to other expert organizations would be the most logical option if you want to maintain quality.
Focus: Last but not least, outsourcing software development projects helps your business to maintain its focus on the important things. For example, a business might actually need more clients hence their ideal focus should be on doing exactly that which is getting more clients. Hence, outsourcing is a good way to get your business focusing on what truly matters.
To know more about the importance of outsourcing, click here
So, do you have a software project in your hand but don't have the time or expertise to develop. Worry not, just contact us and we will get it done for you.
For more information, visit
Website Link: https://www.softfy.net/
Or you can reach us directly at
Phone: +8801835539553
Email: info.softfy@gmail.com